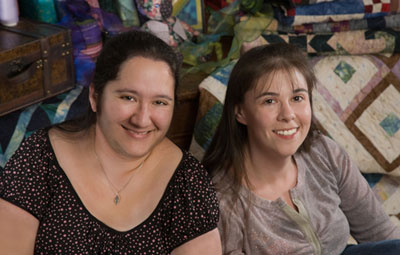 Thanks for visiting our website!
After having been best friends through high school and college, and quilters most of that time, we originally set out to buy a quilt shop in our new hometown from an owner who was moving on. After the owner refused to sell to us because we were "too young," we opened The Artist's Palette in 2000 as an online fabric store. We started designing patterns, teaching classes, and generally playing with fabric!
It wasn't long before we focused on designing unique items just for quilters. When we came out with our first Italian Charm we tested it locally with a small quantity. Finding that it was a hit that sold out within a month, we kept designing, and creating and have ultimately expanded internationally by attending wholesale and retail shows.
We have been extremely privileged to receive continuing support and enthusiasm from our customers and many in the industry. It's always amazing to work with and meet all of you.
We now have a full line of patterns, gift items, and Custom Products so you can have unique items too. Please let us know if there is anything we can do for you by Contacting Us anytime!
As we expand our vision and our products, we hope this is only the beginning, and are thankful to all of you!
Dreaming in Fabric…
Sandra and Theresa